Here it is, my latest custom mod, appropriately titled "Poison Has a Stick".
This is my second mod ever (the first being a KOF still that was posted here a couple years ago), and I think it turned out pretty nice. I ended up getting a second MadCatz SE (for PS3) for $15, and I'd been trying to think of what I'd like to do. And then, of course, I found myself getting knee-deep into the whole Poison discussion, in no small part due to the Poison-related interview I did for EGM with Ono at TGS (for anybody who remembers that).
I hadn't originally planned to go all Seimitsu with this one, but now I'm glad I decided to in terms of ascetics. I mean—you just can't not laugh at the use of the pink joystick in relation to the entire idea that's going on here.
My one thing as of this moment is I'm not super-hot on the pink joystick base cover, as it ruins the fun/polish of the stick by being able to see the plate hole. The default black cover I have has a hole too small for this Seimitsu, so I might try to see if I can find a replacement or drill out the one I currently have. That, or maybe the pink one will grow on me.
(Oh, and the line in the second shot is just a stray somethingoranother, not an actual crease in the label as it looks.)
Also, let me say something, so there's no misunderstanding—this stick wasn't made with the intention of making fun of the character Poison or her "is or isn't she transgender" status, nor was it done simple for some sort of cheap "it's a trap" connection. I mean, of course—the design was absolutely done in good fun and with a lot of humor—but it was done in celebration of the character of Poison, not in mocking her or what she is. I am absolutely on the side of her being trans—as things such as my interview with Capcom's Yoshinori Ono make pretty clear—but I also think that you can't take life too seriously.
So, my custom Poison joystick mod stands as a proud symbol of support for one of gaming's most well-known transgender characters. Well, you know—that, and as a shameless attempt to make something that will have people questioning my sanity. *heh*
Update: Added a photo of Ono-san showing off my Poison stick.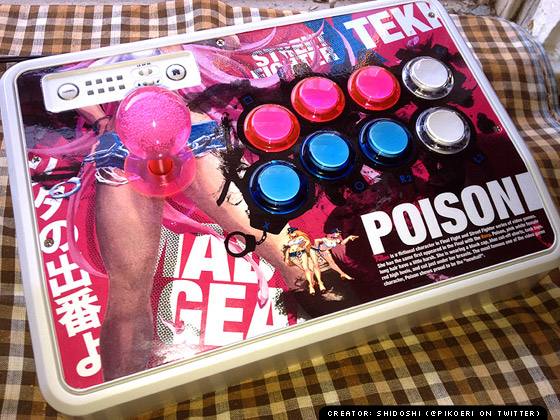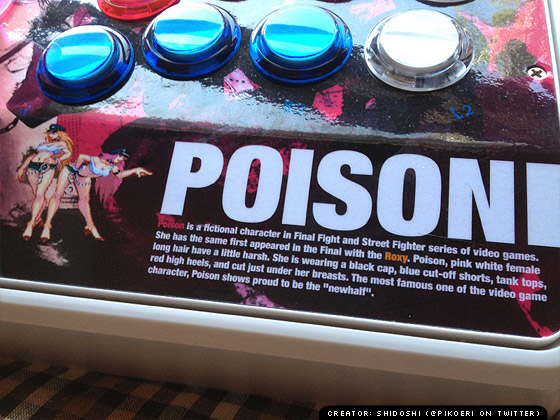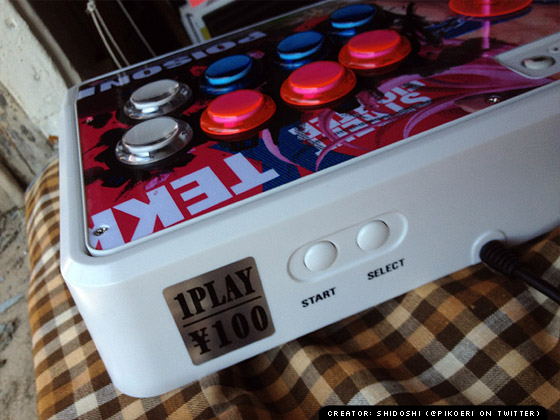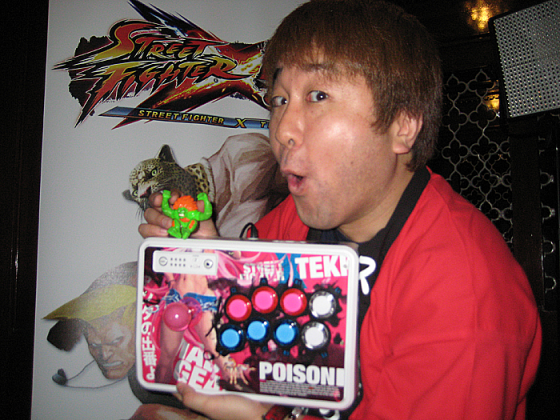 This entry was posted on Friday, February 24th, 2012 at 9:40 pm and is filed under Blog, Hardware. You can follow any responses to this entry through the RSS 2.0 feed. You can leave a response, or trackback from your own site.